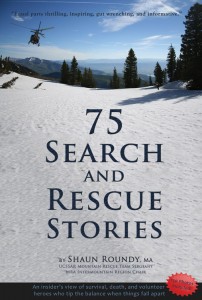 75 Search and Rescue Stories: an insider's view of survival, death, and volunteer heroes who tip the balance when things fall apart
This fully illustrated book details 75+ of the most memorable rescues in Utah County for the first 12 years of Shaun Roundy's (currently 16-year) Search and Rescue "career."
From the back cover:
"I lifted the child from the river and into my arms, cradling her limp body against my chest. She felt small and light and she was not breathing, but I couldn't do anything about that perched precariously midstream.
I spun my legs sideways and the current swept us back into the river. My feet touched bottom and I took several steps toward shore, then swam when the current knocked me down."
Entropy is a law of nature, the one predicting that "things fall apart." Spend enough time outdoors and it will eventually happen to you. When it does, who will pick up the pieces? Who will glue them back together?
Professional search and rescue volunteers leave work, home, and their cozy beds to rescue people on the worst day of their lives. They buy their own gear, pay their own gas, and ask nothing more than to make a contribution to the lives of strangers who they'll probably never meet again.
These detailed first-hand stories, intimately told by 12-year SAR veteran and university writing instructor Shaun Roundy, capture the essence of how it feels to be in the middle of a rescue with one of the world's best and busiest volunteer teams – from both the victims' and rescuers' perspectives.
Included are rescues that captured the national spotlight such as the Thanksgiving Nutty Putty Cave incident, the Aspen Grove Christmas avalanche, Elizabeth Smart, and more. 150 action-packed photos complete your sneak peek into the world of mountain, river, lake, cave and urban rescue.
Order from Amazon.com or the University of Life.